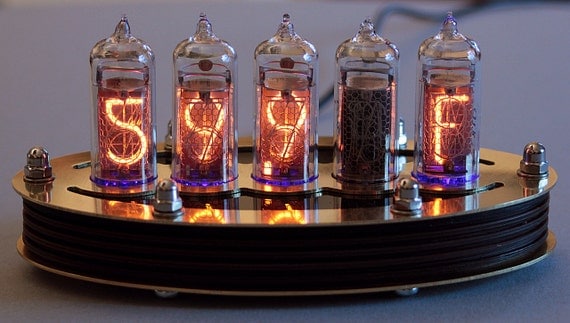 105.00 GBP
Our brass thermometer case but fitted with the paxolin top clock PCB.
Features:
All interaction using IR proximity sensors – no buttons or remotes.
Provision for GPS time sync input 2400/4800/9600BPS
Short-term time backup on power loss
IR data link copies time and settings to other clocks nearby
Data link can chain up to 3 clocks together into a single display
Single alarm
Display dim on/off settings
Time calibration
Individual tube brightness calibration
Seconds tick
Random seconds tick
Fade/ripple/plain display modes
Cathode cleaning routine
Low power, less than 2W and can be powered from a standard USB port.
The kit includes all parts required to build and use the clock, including a power supply and USB lead. Complete PCB assembly, case part sanding and polishing skills required.
The assembly instructions can be found on our website – http://www.lasermad.com/forums/viewforum.php?f=13