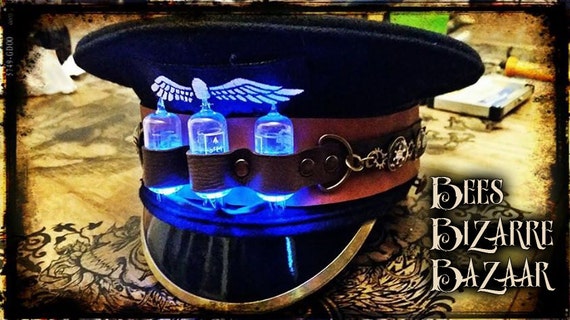 100.00 GBP
These gorgeous vintage original UK military Black dress caps comes in black and with a wonderful solid Brass edging to the peak.
Included in the basic price are the leather hat band and details, A choice of front decoration (valves, vials, UV reactive etc etc) and the Dr.Geof winged badge (we can supply different style badges too if required)
Optional extra would be lighting for the hat at an extra £20 – £30 depending on the level of lighting required.
If you require a different detail, more or less or even a different style please let us know and we can usually accommodate.
Steampunk, Cosplay etc. all catered for.
These hats are each made to order and are 100% to your requirements.
We reserve the right to refund an order if size or items become unavailable at any point.
It takes approx 2-3 weeks to complete a hat.