Buy Now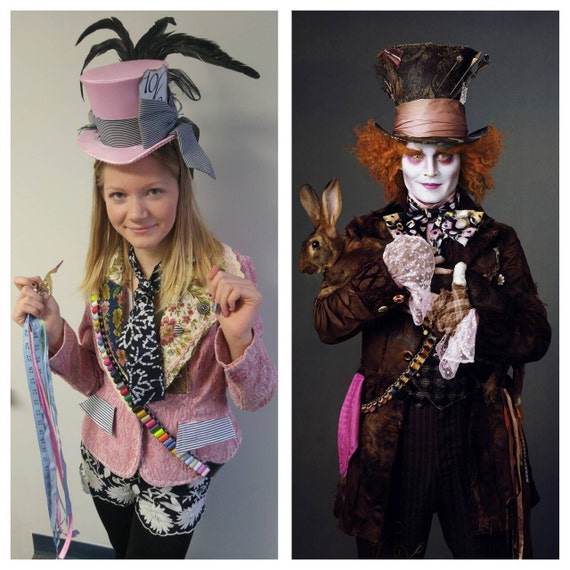 500.00 CAD
Upcyled Steampunk Clothing, Mad Hatter Cosplay Jacket Pink Brocade Blazer, Artwear Clothing, Scrap Art Couture, Ladies Small
Listing Includes:
Pink Brocade Jacket
Pink Satin Top Hat
Black and White Bow Tie
Thread Bandolier
Hat Ribbons
Endure Upcycled Designs by Karen Yaremkewich
Handmade Locally ~ One-of-a-Kind ~ Eco-friendly
PLEASE NOTE: THIS GARMENT IS CURRENTLY IN AN ART SHOW IN A GALLERY IN WHISTLER. PLEASE MESSAGE ME TO CONFIRM STILL AVAILABLE. 🙂
Inspired by Tim Burton's Mad Hatter, but I wanted to make the design my own by giving it a feminine twist. The base of this garment is a navy blue linen blazer that I purchased at my local thrift store. I liked the rich dark colour so I skipped the dye pot for this project. I wanted the goddets and collar to be a variety of contrasting materials and after much deliberation, I finally settled with a long beige linen skirt and a pair of blue and white striped jeans, all second hand finds.
The skirt was used to create the three large goddets in the body of the jacket and two smaller goddets in the sleeves. The jeans were badly worn in patches down the front, but the rest had lots of potential. The bottom cuffs of the jeans became new sleeve cuffs; the back pockets were layered on top of the existing front pockets of the jacket; and the pant legs turned into a wide shawl collar and facing. The button and zipper from the front of the jeans and pieces of the waistband made an interesting embellishment as epaulettes for the shoulders. I found a blue and white cotton toile print in a scrap bin for $3 and used it on the collar and as lining where needed.
The braided trim was in a bag of treasures gifted to me by Karen Unger-Strickland, who literally placed it in my lap when I was assembling the garment in the Artist's Window at Bird on A Wire Creations. It couldn't be more perfect for this piece if I had special ordered it.
I embellished the completed garment by doodling on it with thread and my sewing machine, free hand embroidery style and finished it off with some fun and funky buttons. Some of the buttons are from the jars in my studio, a few special ones were purchased at a sweet shop called Button Button in Gastown Area of Vancouver and a funky ceramic button was handmade by buttonladysgallery.com.
All work done in my smoke free and pet free studio. MADE IN CANADA!
Your order will be shipped from Canada. Shipping costs below are my best estimates, please provide me with your postal code and I will give you a more exact price quote.
NOTE: Squamish Residents – if you would like to pick up your purchases locally, let me know and I will remove shipping from the item before you purchase them online.
Custom orders welcome. If you have any questions, do not hesitate to contact me and I will get back to you right away.
Please accept my invitation to join my "Endure Upcycled Designs" facebook page for regular updates and events.
Breathing new life into cast off materials, much better than re-cycling… it's Upcycling!