Buy Now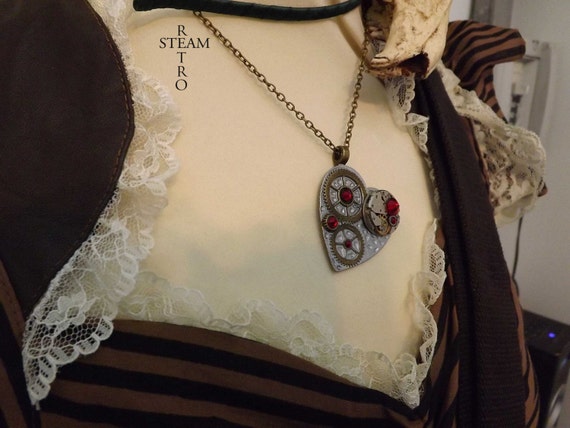 21.99 EUR
This monumental pindaric ode to all things Steampunk consists of 3 major players,2 large gears and an antique watch mechanism,the base is vintage brass, with silver enamel,and the piece features 5 swarovski Siam gemstones.Why have your Heart broken,when you can use a mechanical one?
When you buy from Steamretro you will receive a fantastic Handmade piece of jewelry, quite distinct from any other boutique!
***We offer FREE shipping on the second any any subsequent items when you shop with us*****
All you need to do is add the item to your Shopping Cart and pay with Etsy's checkout system and we will dispatch your parcel via Certified US Postal Service (in most cases it will ship within 24 hours of payment), Monday through Friday.
Part of our profit helps support the local feline community in our area.
Teresa Wagner says….
"This necklace is beautiful! Thank you so much, Malcolm, for the little tweeks you made to it so it was exactly what I wanted. It's perfect! I'm also going to buy a shorter chain for it so I can wear it with more things. "
Want to see more from our shop? https://www.etsy.com/shop/SteamRetro?ref=si_shop
Also in Silver Amethyst!..https://www.etsy.com/listing/124376000/the-clockheart-steampunk-necklace?
Steampunk Earrings Gallery here :
https://www.etsy.com/shop/SteamRetro?section_id=12751521
Steampunk Necklace Gallery here :
https://www.etsy.com/shop/SteamRetro?section_id=12751525
Steampunk Cufflink Gallery here :
https://www.etsy.com/shop/SteamRetro?section_id=14578482
Steampunk Ring Gallery here :
https://www.etsy.com/shop/SteamRetro?section_id=12754934
Steampunk Accessories Gallery here :
https://www.etsy.com/shop/SteamRetro?section_id=13192137
steampunk, necklace, steampunk necklace, gears, cogs, steampunkjewellery, steampunk jewelry,
steampunk accessories, womens steampunk, womens necklace, dieselpunk, cyberpunk, steampunk fashion, silver, chain, watch necklace, watch, watch movement, watch mechanism, jewelry, jewellery, heart, heart necklace, gothic, gothic necklace, black, vampire, tattoo, skull, skull necklace, personalized jewelry
Read More (View all photos)