Buy Now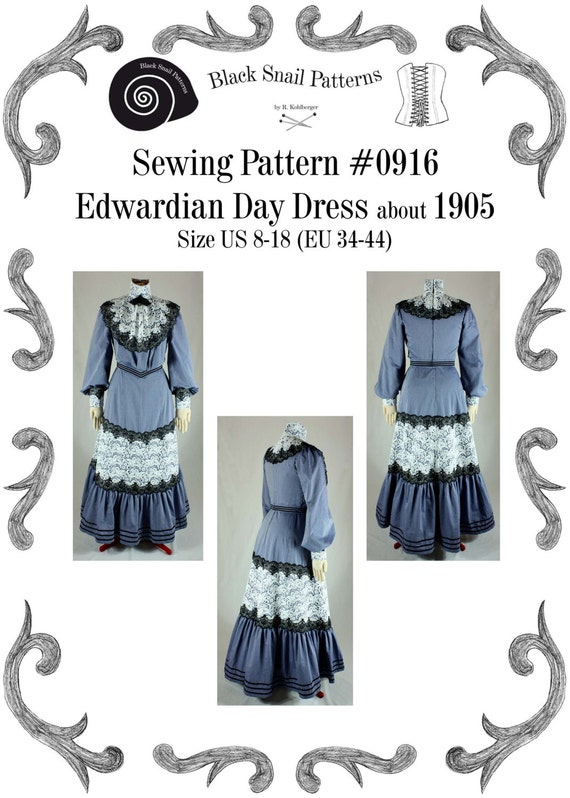 9.00 EUR
This is a sewing pattern for an Edwardian day Dress with a Turtleneck, it contains pattern for the skirt and for the bodice.
Fitted to be worn over a corset.
Also suitable for cosplay or steampunk costumes.
The pattern comes with detailed and illustrated sewing instructions in English and German.
It is a multi size pattern, you can choose between US 8-18 (EU 34-44) and US 20-30 (EU 46-56).
This is a PDF-Download pattern, immediately after payment you can download both sizes of the pattern.
Printable on paper size DIN A4 or US Letter.
Recommended Fabric:
Fashion fabric: Light to middleweight cotton fabric, taffeta
Skirt Lining: percaline or ticking fabric
Bodice Lining: glazed cotton fabric
Yardage:
Size US 8-18 (EU 34-44):
Fashion fabric: 4.5yds. 51" wide (4,3m with a width of 130cm)
Lace fabric: 2.5yds. with a width of 35" (2,3m with a width of 90cm)
Wide lace trim: 6.5yds. (6m)
Skirt lining: 3yds. 51" wide (2,7m with a width of 130cm)
Bodice lining: 1.5yds. 51" wide (1,3m with a width of 130cm)
Hooks and eyes, plastic whalebone, cotton tape 3/8" (1cm): 4yds. (4m),
petersham ribbon 1" (2,5cm): 1yd. (1m)
Size US 20-30 (EU 46-56):
Fashion fabric: 5.5yds. 51" wide (5m with a width of 130cm)
Lace fabric: 2.9yds. with a width of 35" (2,6m with a width of 90cm)
Lace trim: 7.5yds. (7m)
Skirt lining: 3.2yds. 51" wide (2,8m with a width of 130cm)
Bodice lining: 2yds. 51" wide (1,8m with a width of 130cm)
Hooks and eyes, plastic whalebone, cotton tape 3/8" (1cm): 4yds. (4m),
petersham ribbon: 1" (2,5cm): 1.5yd. (1,5m)
Read More (View all photos)