Buy Now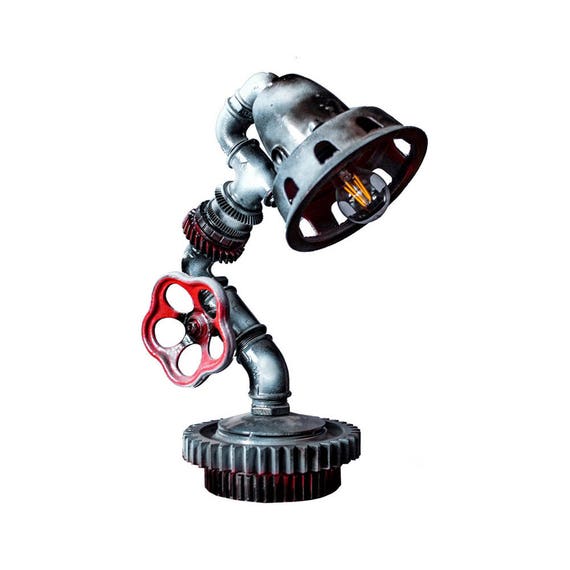 224.00 USD
Industrial lamp – Loft lamp – Pipe lamp – Industrial lighting – Steampunk lamp – Vintage lamp – Rustic lamp – Edison light – Desk lamp
_____________________________________
Table lamp "Captain of Destiny"
vendor code 01-34
Height: 51 cm (1ft 8.08in)
Weight: 13.5 kg (29lb 12.2oz).
Frame diameter: 22 cm (8.66in).
Stardarts for bulb: E12, E14, E17, E26, E27.
Wire length: 70 cm (2ft 3.56in).
Switch: on the wire, at a distance of 15-30 cm (5.91 – 11.8in) from the lamp.
Switch is put on the wire, at the customer's order at any distance from the lamp.
A light bulb is not included in the kit.
The product is ready for use and meets all electrical standards.
Materials: cast iron, steel, bronze
Fireproof rubber plug.
Paint (lacquer): American Accents.
As the bottom of the lamp has a soft pad, it can be placed on any surface.
Copies of the item can be produced within 5 days after order.
They might have slight differences in a few details, however, the general concept of the original shall be preserved.
Every lamp will be equipped with a plug of your country.
Lamp can be operated at any temperature and humidity, in any room and withstands any fluctuations in the voltage of the electrical network.
Table lamp is suitable for operation in any electrical network.
●▬▬▬▬▬▬▬▬▬▬▬▬▬▬▬ஜ۩۞۩ஜ▬▬▬▬▬▬▬▬▬▬▬▬▬▬▬●
If you have purchased one product, then for each additional 10% discount.
* For purchase and delivery overseas please contact us via skype (bayarddd) or email (alkarpusenko@yandex.ru)
Read More (View all photos)