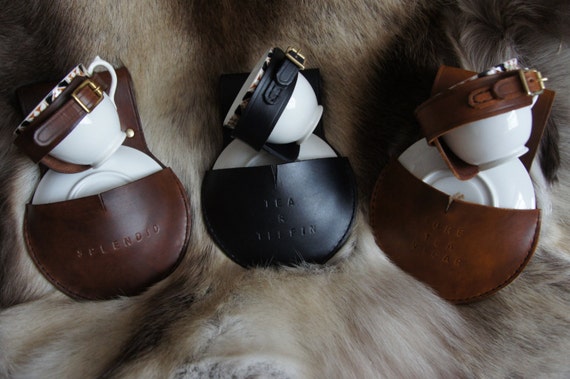 53.00 GBP
A wonderful addition to any steampunk outfit, this lovely leather holster will be the envy of all your friends.
The holster is made from 5/6 oz veg tanned leather and dyed to a colour of your choice. The top is looped over so that it will slide on a belt up to 2.5 inches (if you require wider please advise at time of order). Once assembled a motto of choice is stamped on the front and gold acrylic is added to highlight.
The saucer fits snugly into its pouch, whilst the cup is gently cradled in its buckled strap above. The body of the holster is hand sewn, the buckle strap has machine sewing.
It comes with a pre-loved tea cup and saucer they will be a matching set but i cannot guarantee the design.
The main picture colours are left Chocolate, middle Black and right Light Brown oil dyes.
The Liquid Regeneration phrasing does say Tea first, sadly the listing wont allow that many letters. If you require your own phrasing rather than the ones listed, please message before ordering 🙂
Huge thank you to the lovely Claire for the photo 🙂