Buy Now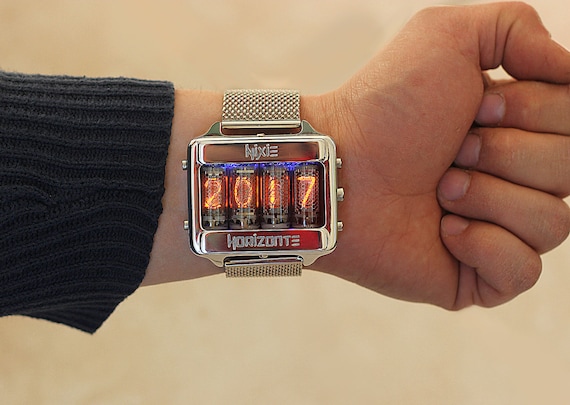 700.00 EUR
Slim model with full options – rgb led (512 colors configurable and can be deactivated), temperature sensor, date/hour (12/24 format), battery charge indicator (percentage), accelerometer activate (memorizes any position), 7 level adjust the brightness of tubes, setting duration illumination the tubes, slot machine effect.
New, original, self-made wrist watch with 4 Nixie tubes Z-5900.
The body milled from a solid piece of metal.
The body is made from aluminium 7075 (ERGAL) and brass. (Size: 56 * 44 * 15.5mm)
The glass – which is used in Galaxy Note 2 (Gorilla Glass)
Battery life: 2-3 weeks with the accelerometer mode or over 1 month with manual ignition.
Quality leather or steel strap, handle 30mm.
Docking station for charging is made of wood (Mogano Meranti) with a brass base. The watch recharges though magnetic contacts. An led is lit when the battery is charging (the led goes out when the process is completed).
SPECIFICATIONS
Time format: 12/24 hours.
Date format: day/month/year
Temperature format: °С
Splash protection: yes
Weight: 70 grams
Battery: Lithium-polymer, nonremovable.
Type of tubes: Z-5900
Accuracy: +/- 10 second per day
Accuracy sensor temperature : +/- 10 °С
Operating Temperature: +1 to +40°С / +33 to 105°F
DOCKING STATION
Automatic charge level: yes
Output: USB type B 5V
PACKAGE CONTENTS
1. Nixie Watch – monocolor or bicolor with steel, leather or mesh strap (Of your choice)
2. Docking station with USB cable
Read More (View all photos)