Buy Now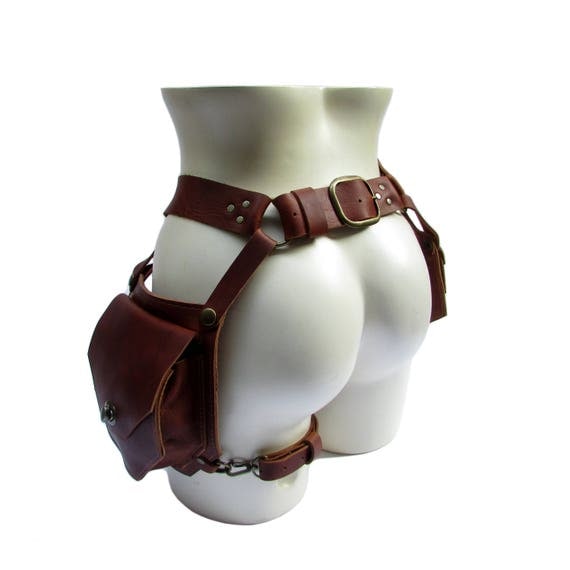 245.00 USD
[a steam punk brown & tan leather gun holster style pouch and belt bag]
Design: METAMORPH
Wherever you find yourself in the time stream, one thing is certain: any plans you make need to be adaptable. Whether hiking a forgotten wasteland, finding an impromptu dance party, or facing off with hordes of things, your needs can change at the drop of a hat. This is the perfect time to bust out the Metamorph bag. Each set comes with two pouches, large and small, that are built to work with whatever the universe can throw at you. Worn around the hips, your large bag can buckle to your leg with the included strap, keeping your provisions safe and secure, while the smaller bag allows quick access to absolute necessities. If that isn't called for, this modular piece can also be combined in a layered set to wear over the shoulder, with each bag under the arms in a holster pattern, or split between two people with an ingenious system of snaps. Should fate conspire against you, the pouches are also easily removable, allowing you to drop your precious loot in a safe space without the belt, allowing you to always be girded for battle (nobody wants their pants to fall down in the middle of a fracas or photo op).
Dimensions:
Large pouch: 5.5" x 6" x 1.5"
Small pouch: 4" x 4.5 " x 1.5"
Each unisex set is available as a fully adjustable S/M or M/L. If you're stuck in the middle, we recommend choosing the smaller size.
All our leather products are made using real leather (not "Genuine Leather " aka leather particle board). We mostly work with Stone Oil Tan, and beautiful embossed garment leathers. Not sure about color? Order a swatch: https://www.etsy.com/listing/288472675
This item will be hand-made for you by the amazing people at Hellbent Studios (our leather workshop). We are located in New Orleans, USA. Most orders ship in about 2 weeks. If there is a specific date you need your order by please let us know! We also offer a 1 week rush option for a fee (it will ship in 1 week instead of 2, please still allow time for delivery).
Ask us about custom orders!
Use coupon code 2017MEMORIAL15 for 15% off all Memorial Week orders placed before June 6th!
Read More (View all photos)