Buy Now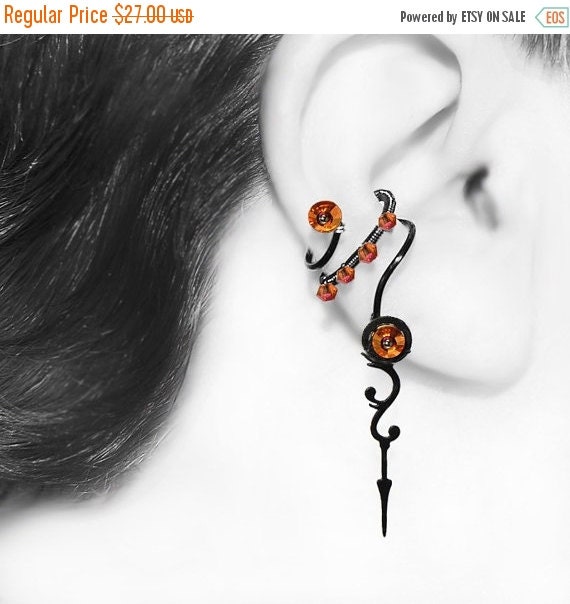 20.25 USD
❘❘❙❙❚❚ ON SALE 25% Off ❚❚❙❙❘❘
Steampunk Ear Cuff For The Right Ear, Astral Pink Swarovski Crystals, No Piercing, Cartilage Earring, Statement Cuff
Urania: One of the nine Mousai (Muses), the goddesses of music, song and dance. In Classical times she Ourania came to be titled the muse of astronomy and astronomical writings. In this guise she was depicted pointing to a globe with a rod.She was a daughter of Zeus by Mnemosyne and also a great granddaughter of Uranus. Some accounts list her as the mother of the musician Linus by Apollo, and Hymenaeus also is said to have been a son of Urania. She is often associated with Universal Love and the Holy Spirit. Eldest of the divine sisters, Urania inherited Zeus' majesty and power and the beauty and grace of her mother Mnemosyne.
16ga black wire, astral pink Swarovski crystals and a single vintage clock hand
A great way to dress up any ensemble this ear cuff is lightweight and no piercing is needed. To wear the cuff start at the top of the outside cartilage of the ear and slowly slid it down until it wraps around inside of the ear and hooks around the back,. The cuff is made for the right ear only.
Length: 2 inches
The matching Pendant featured in the last photo can be found here: https://www.etsy.com/listing/496362471
Find the matching earrings here: https://www.etsy.com/listing/496362395
Find the matching left ear cuff here: https://www.etsy.com/listing/482867076
~*~*~*~*~*~*~*~*~*~*~*~*~*~*~*~*~*~
See More Crystal Jewelry
youniquelychic.etsy.com
~*~*~*~*~*~*~*~*~*~*~*~*~*~*~*~*~*~
ET-48
Read More (View all photos)