Buy Now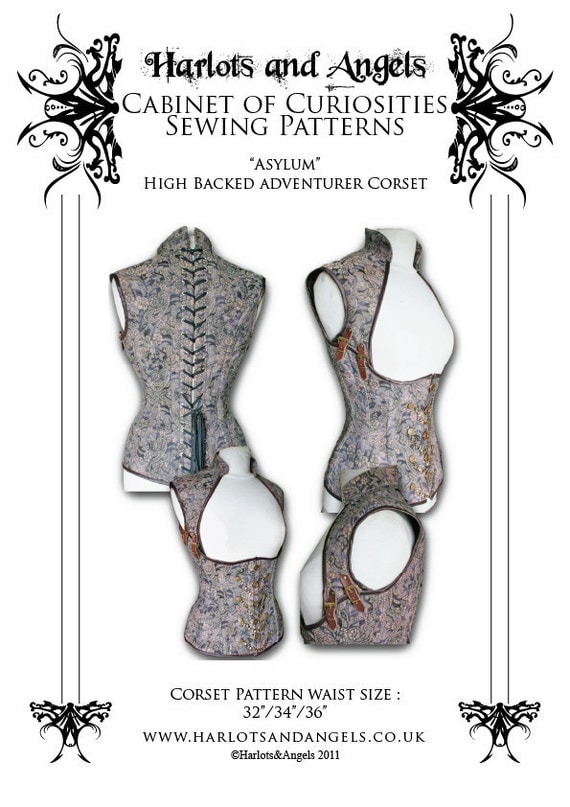 17.50 USD
PLEASE NOTE THAT THIS IS A PAPER PATTERN AND NOT AN ACTUAL CORSET!!!!!!.
A Strikingly individual Steampunk corset sewing pattern, the "Asylum" corset is a full backed corset with back lacing and front opening. An Under bust front pattern that frames the figure with a beautifully curvy silhouette.
This pattern is a real tight lacing steel boned corset suitable for waist training so the sizes listed are actual corset waist sizes.
This paper sewing pattern is exclusively designed by Harlots and Angels Corsetry and has been crafted to be a perfect and comfortable fit for all shapes and sizes. This pattern can be relied on to give the beautiful curves that a real Victorian corset construction should give whilst fitting modern body measurements.
This corset doesn't want to be made with a wide gap at the back because it's designed to fit gracefully over the spine. It's quite cinched in at the waist so choose a pattern no more than 3" larger than your waist for the most comfortable fit.
Available in the following sizes: Please note these are the actual Corset measurements and you should generally choose a pattern with corset waist 2- 3" less than your natural waist
20" 22" 24" Finished Corset waist: Small size
26" 28" 30" Finished Corset waist: Medium size
32" 34" 36" Finished Corset waist: Large size
38" 40" 42" Finished Corset waist: X Large size
At Harlots and Angels we have over 25 years' experience in creating sewing patterns and have produced designs, commissions and sewing patterns for a wide diversity of clients, including The Disney Corporation, the BBC costume department, Sky TV, Working Title films as well as several Hollywood production companies.
Materials needed to complete this corset are as follows, fabrics with larger patterns. plaids naps etc will require more yardage for pattern matching.
1 1/3 yrd (1.25 metres) outer dress fabric, middle lining (cotton Light to medium weight woven fabric not fusable interfcing) and cotton drill or coutil for main lining.
approx 40 -44 eyelets and fixing tool.
9" to 10" (24cm to 26cm) front metal busk
5 1/2 yards ( 5 metres) continuous 13mm flat plastic covered sprung steel boning or 3 1/3 yards (3 metres) flat steel boning and 2 1/3 yards (2 metres) spiral boning.
3 1/3 yards (3 metres) double folded 7/8" bias binding (22mm)
1 x 6 1/2 yard (6metres) corset lacing corsed
2 x 20" (50cm) long reinforcing strips or 2 1/4 yards (2 metres) 1 1/2" (38mm) wide petersham reinforcing tape -alwasy use straight grain not biased petersham tape, leather strips, or a solid canvas can also be used as reinforcig strips under the eyelets.
Please feel free to email any questions about this style of corset before purchasing.
Read More (View all photos)