Buy Now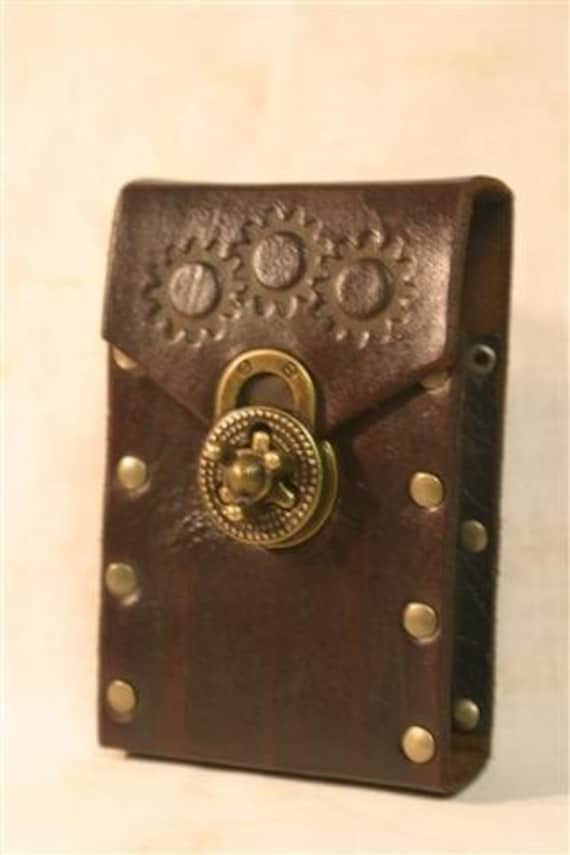 39.00 USD
***Product Update-As we are only allowed 5 pictures per item, please view the item listed below and see last picture for stamp options***
https://www.etsy.com/listing/104556588/6-brass-extendable-telescope-with?
At my last steampunk event I was faced with a problem. My pants and vest were dashing enough but they were also pocket-less. Even though I enjoy stepping back in time, I do also require taking along modern day amenities and without pockets, my smart-phone (iPhone) was without a safe place to keep me "connected".
From this conundrum was born the Leather Steampunk Smart-phone Case / Holster. Its constructed with high quality thick leather and held together by antique brass rivets. The case is then securely closed by a twist to lock antique brass latch.
You may have noticed that the belt loops (fits up to 2" belts) are on the bottom of the case. This is actually for good reason. When sitting, the holster will remain upright and able to be opened without having to twist or contort your body in an ungodly fashion. If however, you prefer to loops at the top of the case, causing it to hang lower on your waist, just specify that in the comments section during purchase.
The case dimensions are 3 ¼" wide x 5" tall x 1 ¼" deep. It's large enough hold a 2 ½" by 4 ⅝" cell phone along with credit cards, ID, cash or in my case, gum (as seen in photo).
COLOR OPTIONS…
Please see last picture for leather and hardware color options. Please include any changes in your notes during checkout.
IF LARGER DIMENSIONS ARE NEEDED, PLEASE CONTACT US AND INCLUDE YOUR PHONE MEASUREMENTS. ALL CUSTOM ORDERS ARE WELCOMED.
Note–Cellphone and Gum not included. Sorry 🙁
UPDATE 1-26-13
Due to across the board increases in shipping via USPS, our domestic and international prices have changed. domestic charges were moderate but international has increased by almost 100%.
Read More (View all photos)